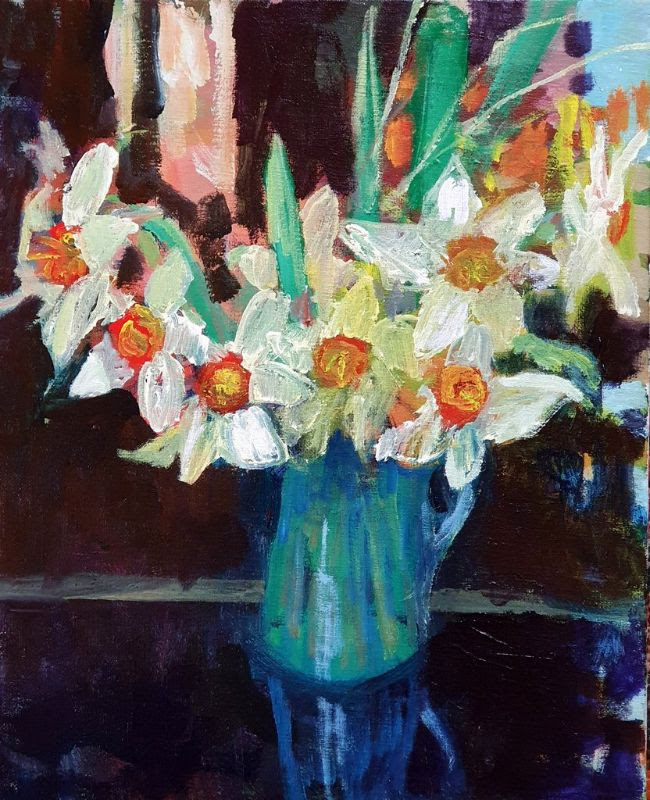 Daffs Laurie Fox Pessemier acrylic/canvas 16 x 13" 41 x 33cm
450.00
Well, it really is SPRING. Happy Nowruz to all my Persian friends. I have to say, it makes sense to think of the new year starting when the trees and flowers come back to life. I guess I could make this my New Year. Really, what difference would that make?
I read recently about a family that stayed on Daylight Savings time all year round. Of course, they had to adjust for appointments and such, but really when I hear all the anguish friends go through, even retired ones, over the time change, that seemed like a sound idea. Me, I just sleep when it's dark, unless I have a more exciting engagement, which hasn't happened for a year now. This program works for Harika, too.
Apricot Blossoms Blair Pessemier Acrylic/canvas 22 x 15" 55 x 38cm 620.00
Which brings me to the new 3 minute

art

show we're preparing: April in Paris: Chestnuts in Blossom. It takes us about three weeks to put it together, selecting work, stretching it onto canvas. Maybe we'll add a piece or two to existing stock. I fear April in (real) Paris might be a trifle bleak this year, with yet another lockdown there. Life has changed forever.
Plum Blossoms Laurie Fox Pessemier acrylic/canvas 16 x 8" 40 x 20 cm 450.00
Blair and I have been painting flowers and trees around our yard. It's best to paint outside but it has been frigidly cold. The sky is that very dark mountain blue, that makes it seem you can see all the way to heaven.
Cherry Blossoms in the Neighbor's Yard Laurie Fox Pessemier acrylic/canvas 16 x 12" 40 x 30 cm 450.00
The idea of heaven above and hell below seem very remote to me. I am freaked out by Dante's description of the levels of hell and despite a half-dozen tries, I have never made it through that entire section of the book. As a child attending catholic school, I was fascinated by the idea of hell. My best pal, Rita, and I tried digging a hole to hell in my back yard. We added water to ease the excavation, executed with large spoons. When we were not more than 5 inches down, I was stung on the arm by a wasp, no doubt dispatched by the devil.
Violets in the Wall BlairPessemier 14 x 10.5" 35 x 27cm 375.00
The bees are barely out because it is so cold, so I have taken to pollinating my fruit trees myself. It's an alternate use for the paintbrush. Happy New Year.