2/19/22 Stimigliano, RI Italia
Venice Rio Blair Pessemier 20 x 10" 50 x 25cm
Acrylic/canvas 490.00
This week was dedicated to finding a dog. I contacted Harika's old vet here, who sent us photos of a little golden short hair. "Not fuzzy enough," said Blair. I agreed and I hated to split up the pair (there was a much larger golden dog in the frame). So she suggested we get in touch with Friends of Pasqualina, in the next town, Poggio Mirteto.
Palace and Trees Lithos Laurie Fox Pessemier approx 5 x 7" 85.00 each
I contacted them by WhatsApp and we set up a time – 3 o'clock on Wednesday. Somehow, I imagined we'd go and find a dog, so I brought a leash, and tidied the car and house to make them more dog-friendly. And we did, kind of, find one. There were about a dozen dogs present. I had seen Sven and Olaf, a black and white pair, on the Facebook sight – they were less impressive in person, in the throws of a wrestling match. There were the usual big dogs – a Labrador, and one of those enormous sheep dogs, a Maremma, weighing in at 100 pounds. Another small black dog, jumping and barking ferociously, was in solitary confinement, and judging from nicks on the ears and faces of some others, he was "inside" for acts of aggression.
The Possible Winner Laurie Fox Pessemier 10 x 7" 25 x 17cm 95.00
The hostess, Daniela, dressed in a mud covered ski suit, asked us to sit on the bench, a plastic number, chewed to fringe all the way around. Then, a very nice dog, with soft ears and big moustaches, came and put his head on my lap. He looked up with his golden eyes, like in a dog food advertisement. Blair reiterated our desire for 15 kilos, max, a figure Berlino, now cuddling closer, exceeded by about 5 kilos.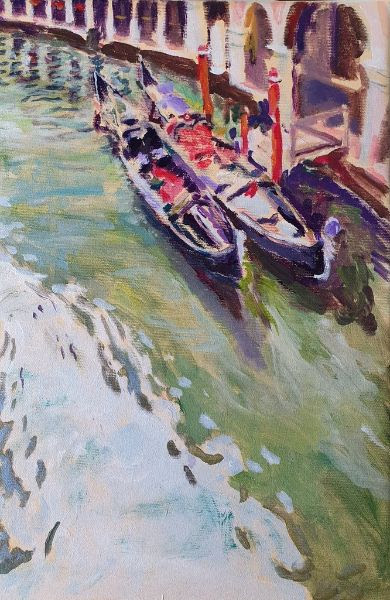 Two gondolas Venice Blair Pessemier 18"x 12" 45 x 30cm Acrylic on linen $775
He seems to be an Italian Griffon/Spinone mix, a splish-splash of colors, mostly brindle, some mixed white and black, and a touch of brown. He has a large rectangular head, and round webbed paws. Despite his size (yet to be exactly verified), he seems like the one. It wasn't like finding Harika, when I ran all the way home shouting, "I found our new dog". That kind of love only happens once.
Hope Springs Eternal Laurie Fox Pessemier Acrylic/canvas 10.5 x 14" 27 x 34cm 450.00
On Sunday, two "dog home" inspectors are coming by --this has never boded well for us. In Seattle, when we tried to adopt a child we were refused, based on this very process: our lifestyle and financial status just a little too "bohemian". So far, I've filled out three pages of personal details, translating the technical bits from Italian. I am debating whether to mention the "big" house, with its 6+ foot iron fence and gates (but certainly not the chickens) – actually, veering off the page is dangerous in the eyes of bureaucracy. I guess we'll let the chips fall where they may – to be continued.
---
---
INVITING All Artists

to present their Work: Paint, Literature, Crafts, Food.... read us a poem, tell us a joke?

Pessemier's Sunday Salon
Weekly on Sunday No Reservation Necessary

Rome 8PM ; NY 2 PM; LosAngeles 11AM



Meeting ID: 856 2508 8767 Passcode: 887182