Pine with Hydrangeas Blair Pessemier acrylic/canvas 10.5 x 14" 27 x 35 350.00
Cold water. The benefits are remarkable: it reduces inflammation; boosts immunity; improves circulation; fights depression. We swam every day, not necessarily for long, but it was ever so satisfying. Harika even partook, often several times in one day, her four popsicle-stick legs submerged to the gunnels in the North Atlantic.
Sailing Lessons Laurie Fox Pessemier Acrylic/canvas 15 x 18" 33 x 46cm 450.00
Brittany is such a wonderful spot, five hours from Paris. We ate seafood in the open air, and had crepes stuffed with goat cheese and figs. The crepes are best in Brittany, made with sarrasin flour. We ate and visited with good friends who lived near us at the corner of rue de Rennes and boulevard Raspail some years ago. They have since moved to Berlin, but keep a house at the edge of Brittany. So we talk about place, place, place: America, Italy, Germany, France. I think, as Americans, we are not so attached to any one place. Both of us moved a lot as kids, Blair across country a couple of times, and me, in the same town, different houses.
Pont Aven (River) Blair Pessemier Acrylic/cardboard 20 x 14" 51 x 35cm 450.00
It was hard for us to drive back to Paris, where we are spending a few more days. 100 miles distant we could see the dirty air, and my wheeze recommenced. Harika, the formerly city-loving dog, must be cajoled into going out onto the hard sidewalks. I think Blair likes it a little better, and we've enjoyed some art shows. I don't like having to "book" art shows in advance – if the day turns out to be a sunny one, we might like to sit in the park instead of looking at paintings.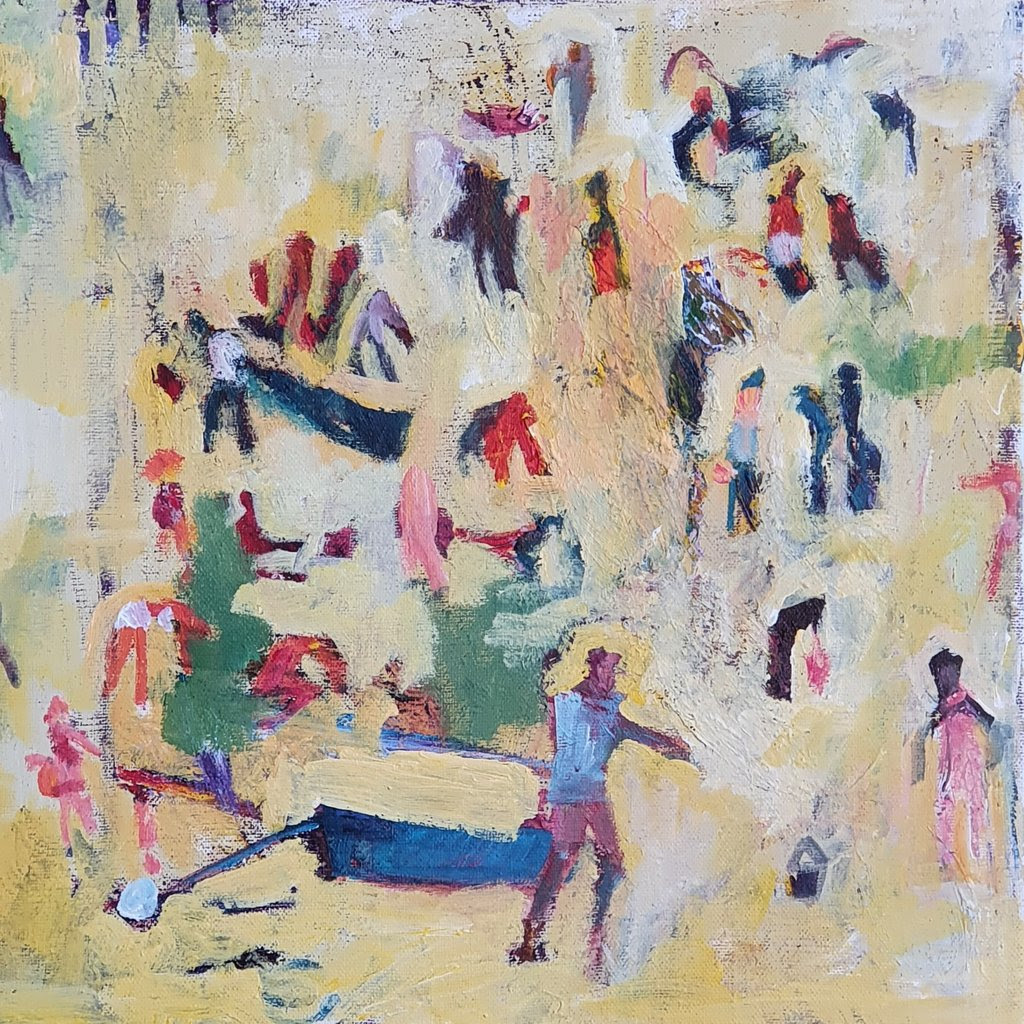 Beach People Laurie Fox Pessemier acrylic/canvas 12 x 12" 30 x 30cm 450.00
For years, I said, "three days in the country maximum!" Now I feel that way about the urban scene. I am not ready to give up city visits, but I can't believe what a country person I've become. I am thinking of planting oak trees. Near a cold lake.
Under the Old Pine (top, Laurie 10.5 x 18" 27 x 46cm 450.00
Blair below acrylic/linen 16 x 16" 40 x 40cm 450.00
---
---
INVITING All Artists

to present their Work:

Pessemier's Sunday Salon
Weekly on Sunday No Reservation Necessary

Rome 8PM ; NY 2 PM; LosAngeles 11AM


Laurie Pessemier is inviting you to a scheduled Zoom meeting. Join Zoom Meeting