Reflection: Comacchio 28 December Blair Pessemier Acrylic/canvas 12 x 16" 30 x 40cm 225.00
We've nearly made it through another holiday season; another year; another decade!
It hard to think of the decade, but for us it's been a truly great ten years: we moved back to Paris in 2010 after a two year hiatus in America; we ran our Paris Painting Workshop for 5 years; we had a gallery in Paris on rue Servandoni; we moved to Italy halfway through the decade, into a giant house where we entertain a lot; we bought a little apartment outside of Rome, our favorite city. Harika spent this entire decade with us, traveling across the Atlantic numerous times. She is enjoying her retirement home and yard here in Rocca Malatina. We are eating healthy, getting plenty of exercise, and I can breathe.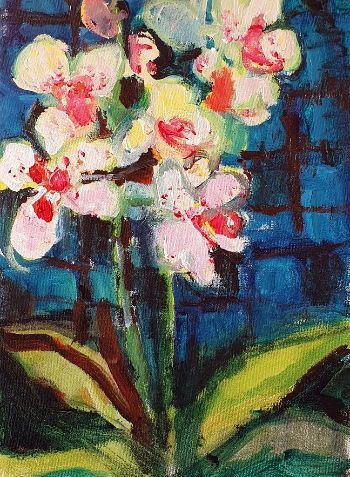 Orchids on a Blue Background Laurie Fox Pessemier Acrylic/canvas 14 x 10" 35 x 25 cm 175.00
Of course, there were sad or difficult bits (those are the ones we learn from). If the earth isn't destroyed by the activities of the giant corporations, we will hopefully celebrate another decade.
Orchids in a Top Hat Laurie Fox Pessemier Acrylic/paper 17 x 25" 41 x 63cm 160.00
I love the New Year, with its bright clean slate. I have visions of new paintings, and writings. I will open my house in the afternoon like a gallery; paint and work in the mornings. Despite hating the computer (my own fault, minimal self control), it is an important part of my life, and I will continue to keep in touch with my 65 years worth of friends. Oh, yes, I crested that watershed birthday this week. I had stopped smoking at least 25 years ago, with the idea that I could start again when I turned 65 (I would be so old by then it wouldn't matter). In fact, I made it through that day without a cigarette or cigar, so I might delay until 70, when I'll possibly quit for good. Frankly, I am a bit surprised cigarettes are still available, but I feel that way about fossil fuel cars, as well.
In the Bleak Midwinter Laurie Fox Pessemier Acrylic/canvas 12 x 12" 30 x 30cm 175.00
I have a million books still left to read, and flowers to plant. Children played a role in our Holidays this year. We had a 3 month old and a six year old at our table, as well as a teenager. I was delighted to meet them all. We're thinking of putting (reading) our 25 children's books onto Youtube, but that's a big job.