28 May 2022 Roccamalatina,MO Italia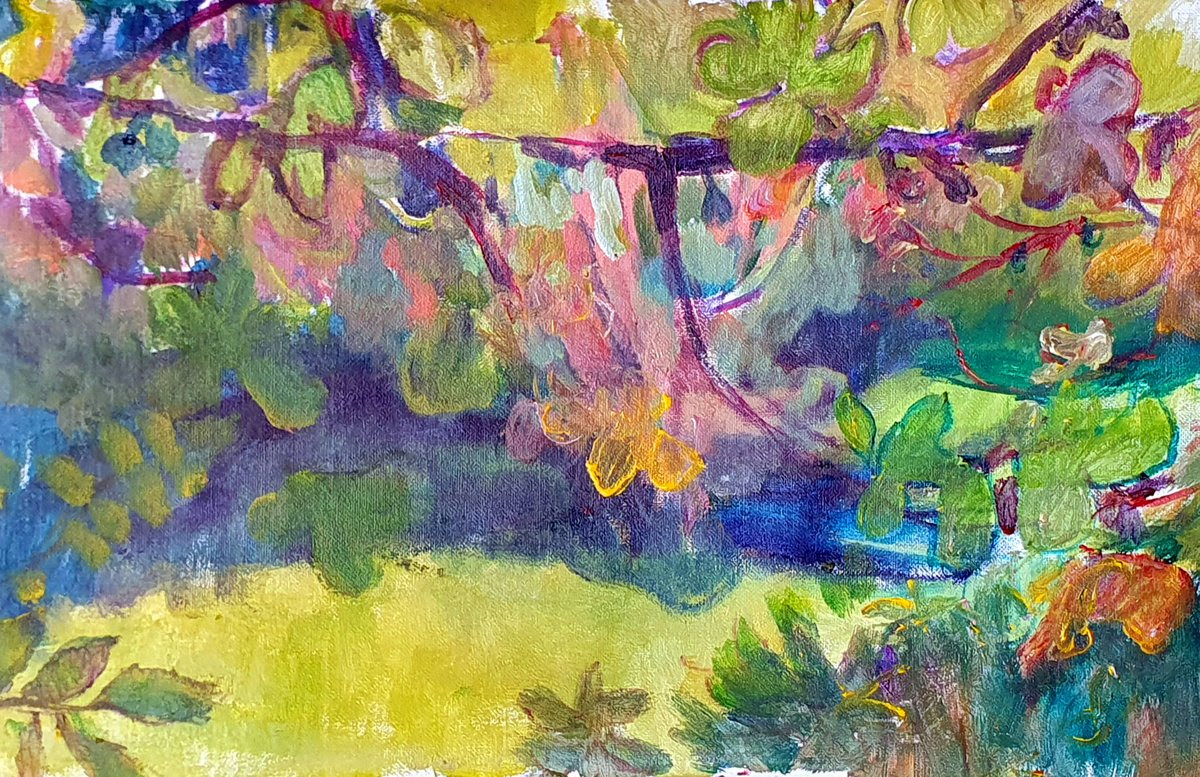 FIgs in the Foreground Laurie Fox Pessemier Acrylic/canvas 10.5 x 16 27 x 40cm 450.00
I've been cooking up hot weather food this week, as temperatures climb (we are supposed to be in an art show next weekend where the temperature is predicted to crest 100…hmm). We entertained a lunch guest today and another tomorrow. I made a Sicilian Caponata, which might be best cooked by a large family – lots of chopped vegetables involved. One could imagine sitting around the table, tap tap tap, as the eggplant, peppers, onion and celery are crafted into bite-sized. I made a potato salad with cumin, in honor of the Memorial Day weekend. The piece de resistance was a veal tonnato: thinly sliced veal with a tuna-caper sauce. One puts the veal in boiling, seasoned water, and lets it sit, heat off, for an hour. Then I blend tuna, eggs, anchovies, capers and lemon for the sauce. I made these treats while Blair shopped for furniture.
Portrait of Cat with Owner (in process) Blair Pessemier Acrylic/canvas 16 x 20" 40 x 50cm
Blair searches for furniture, almost everything appearing on the Internet these days. This week, at Mercantopoli, we managed to procure a like-new yellow sofa, and two 1940s style endtables/nightstands. We purchased 4 heavy wooden chairs, for 10euros, the lot. They are remarkably solid, and one can imagine throwing one without damaging it. They won't tip over easily, either.
Assemblage II Laurie Fox Pessemier Paper, Ink, Linen 27 x 39" 70 x 100cm 750.00
This all comes on the heels of furnishing a new apartment for a friend, K, near Arezzo. It's so interesting what one can find in the antique stores. Brown (wood) furniture has been "out" for years, and it allows us to buy those beautifully crafted items we like for a very small price. Berlino (our pup) loves going into used furniture stores. I believe he can smell the story behind each item, which would make quite a tale: Machiavelli slept in this bed sort of thing. That, and his daily jaunts of nasal ecstasy, make me think he could write a book.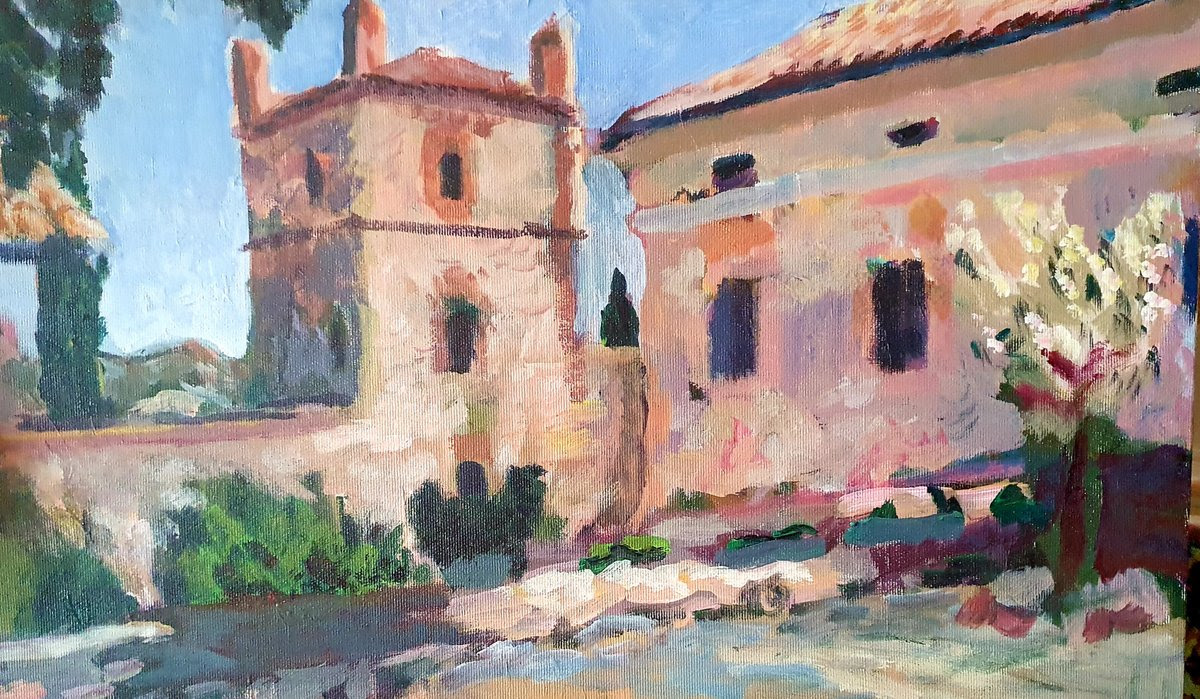 Castello Serravalle (archive) Blair Pessemier Acrylic/canvas 12 x 19.5 30 x 50cm 450.00
It's hot here, even in the Apennines. The crickets chirp nearly constantly. They were still going at 1:17 this morning, when I took Bernie out for an urgent "walk". Cursing under my breath, we inspected the yard – he lurched frighteningly at a hedgehog. I saw my first firefly of the season, and Blair came out to witness it. This morning we walked through the woods, which were dark, cool, and quiet, save for the cuckoo that chirped on and on. 7AM. "He's off by 10 minutes" Blair announced.
Montecorone Laurie Fox Pessemier Acrylic/canvas 12 x 24" 30 x 60cm 450.00