The Roof Across the Street Blair Pessemier acrylic/canvas 8 x 19.5" 20 x 50 cm 450.00
We entertained lunch guests in our garden twice this week, among the last vestiges of asters and butterflies. Our guest list is growing once again, with visitors from Seattle (never met before!) and England. These folks are all vaccinated, and tested.
Rocks on the Hill Blair Pessemier Acrylic/canvas 10 x 14" 25 x 35cm 450.00
Things do not seem "like before", but better, as I am more relaxed as I assemble salads and cook baby turnips and veal tournedos. Blair's made pie from peaches (with wild blueberries from Monte Cimone) and another from apples. We serve regular and decaf coffee now. I refuse to be "stressed" over things: life is short and precious and fun. It gives me great joy to see happy people around my table once more.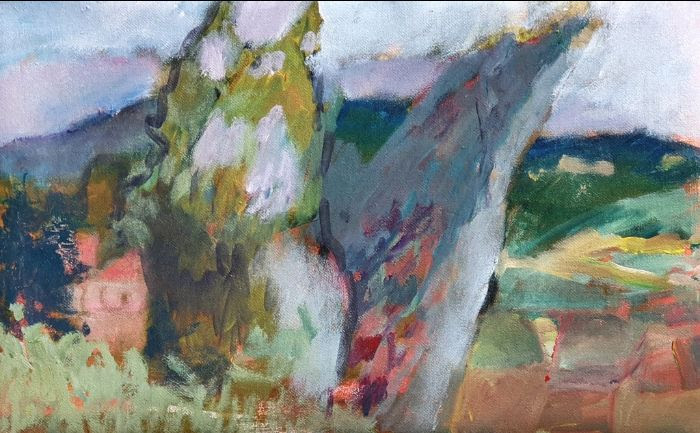 Sassi di Roccamalatina Laurie Pessemier Acrylic/canvas 9 x 16" 25 x 40 cm 450.00
The days are shorter, for sure, and this week we saw lots of the moon during our waking hours. I like that it gets dark earlier – I am in search of trees in the crepuscule. I have been inspired by the woodcuts of Hasui Kawase. I got a nice image of the moon at 4:30AM Thursday Morning. I made a video of me painting it (via photograph, although I used the image stored in my own head, too). Hopefully, I'll get it online at this printing.
The Moth Laurie Fox Pessemier Acrylic/newspaper 17 x 25" 41 x 63cm 250.00
to watch this being painted: click on photo or https://youtu.be/vLeaVCMKCXY
I am not an advocate of painting from photos, although it has a long history of use by artists. Some artists would turn their entire studio into a camera, letting light in only from a pinpoint: camera obscura. Vermeer (think Girl with Pearl Earring) most successfully used this technique, along with mirrors to turn the image right side up. The camera idea was toyed with as early as the 5th century BC in China. Plato played with this idea, but it wasn't until the 11th century, Muslin Arab mathematician Alhazen (Ibn al-Haytham) wrote the Book of Optics and, among other things, he invented camera obscura and pinhole camera.
Painted Posy Laurie Fox Pessemier Acrylic/newspaper 17 x 25" 41 x 63cm 250.00
to watch this being painted click on photo or: https://youtu.be/exGLyFD-kUo
One summer we made our own camera obscura at Hemlock Lodge, in Winsted, Connecticut where we spent many a July. We could watch boats plying the waters of Highland Lake, upside down.
We are glad life seems to be right side up again, and hope to see you at our table soon.

---
---
INVITING All Artists

to present their Work:

Pessemier's Sunday Salon
Weekly on Sunday No Reservation Necessary

Rome 8PM ; NY 2 PM; LosAngeles 11AM